Bòrd na Gàidhlig visits Communities in Argyll & Bute and Lochaber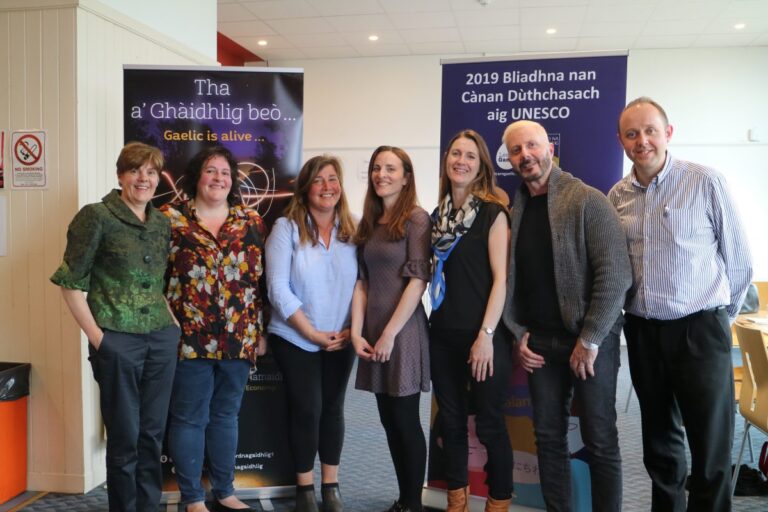 Bòrd na Gàidhlig visited some of the Gaelic communities in Argyll & Bute and Lochaber as part of a series of Board meetings which were held last week, 4-6 June 2019.
Bòrd na Gàidhlig met with Comann nam Pàrant in Oban on Tuesday evening to discuss the demand and their progress for a dedicated Gaelic school in the area. The Group is continuing their campaign and parents and the Bòrd discussed steps to take the work forward. 
An informal community meeting was held in the Corran Halls on Wednesday evening where those involved in Gaelic in the area had the opportunity to meet with Board and staff members. The Bòrd's Interim Chair, Mairi MacInnes, opened the meeting and welcomed all those who attended and the Bòrd's Ceannard, Shona MacLennan, highlighted how Bòrd na Gàidhlig's work is contributing to the use of Gaelic in this area. Last year, the Bòrd provided funding of £261,886 to 23 different projects in Argyll & Bute. This included funding towards Ionad Chaluim Chille Ìle, the Gaelic centre in Islay; early years groups in Bowmore, Tobermory, Dunoon and Oban; officers at Comunn na Gàidhlig based in Islay and Jura, Mull and Oban and the new Comann nam Pàrant officer based in Oban; a Co-ordinator of Music and Culture in Tiree; Argyll & Bute Council's Gaelic classes; and also funding to the Hebridean Whale and Dolphin Trust based in Tobermory, to encourage the increased use of Gaelic in their work.
In addition to supporting the funding for Ionad Chaluim Chille Ìle, Bòrd na Gàidhlig also help fund Fèisean nan Gàidheal and An Comunn Gàidhealach, two other organisations which contribute significantly to promoting the use of Gaelic in the area.
Bun-sgoil Ghàidhlig Loch Abar won the prestigious Gaelic Award at this year's Scottish Education Awards in Glasgow, which also took place last week. Bòrd na Gàidhlig sponsored this category and congratulated Head Teacher John Joe MacNeil on their success.
More information about Bòrd na Gàidhlig's work and funding schemes can be viewed on their website, www.gaidhlig.scot