Gaelic Theatre Company Theatre Gu Leòr among 11 organisations awarded £5m Bòrd na Gàidhlig funding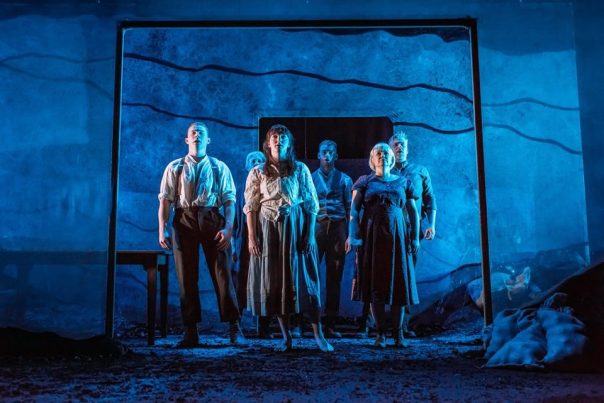 10/06/2019
Photo Credit: Mihaela Bodlovic
Eleven organisations involved in promoting Gaelic through arts, education and digital services have been awarded more than £5 million worth of funding over the next three years by Bòrd na Gàidhlig.
Included for the first time is Theatre Gu Leòr, which brings Gaelic theatre to audiences across Scotland and supports both contemporary writing, and the creation of a new repertoire of Gaelic drama.
The award of £165,000 over three years means the theatre group now has a permanent base in Partick, Glasgow, from which it can develop a creative learning programme, including Staran, a new initiative which focusses on professional skills development for Gaelic-speaking writers, actors and directors.
A new aspect of the Scottish Government-backed funding arrangements – awarded to groups which follow Bòrd na Gàidhlig's corporate plan to promote and support the growth of the Gaelic language and culture – sees the finance awarded over a three-year cycle rather than just one year.
The move by Bòrd na Gàidhlig aims to allow those awarded funding the opportunity to put longer-term plans in place, a move which has been widely welcomed.
Among the other groups which will continue to receive funding are Comunn na Gàidhlig, (£1.36 million), An Comunn Gàidhealach, which organises the Royal National Mòd and local Mòds (£300,000) and Stornoway-based Stòrlann Nàiseanta na Gàidhlig (£930,000).
Comunn na Gàidhlig manages Iomairtean na Gàidhlig in 15 communities across Scotland. They aim to enthuse and enable young people and parents to use the language more often by delivering a wide range of fun and attractive activities outwith the classroom.
Among its aims are to develop a five-year expansion programme to take its activities to new communities and to grow the number of young people speaking the language.
Stòrlann Nàiseanta na Gàidhlig will use its funding to continue promoting its Gaelic culture by developing its resources and support to pupils, teachers and parents involved in Gaelic education.
An Comunn Gàidhealach, based in Inverness, aims to further develop its Royal National Mòd and 18 local Mòds held throughout the year, which together involve around 10,000 young, talented performers annually.
Muireann Kelly, artistic director at Theatre Gu Leòr, said: "We are delighted not just with the funding from Bòrd na Gàidhlig but the fact that it's a three-year cycle. This gives us the stability and platform to plan ahead.
"It means we now have a home in Partick which gives us space to develop creative learning and the Gaelic theatre sector. In our new workspace Gaelic is used every day, there are hot desks for Gaelic artists, we are able to offer training and work placements, and we have launched our new initiative, Staran, which is a pathway to developing this sector.
"We are delighted to be based in Partick, which is a real Gaelic heartland in Glasgow, though our work takes us all over the country. We're fortunate in that our workspace, which the funding supports, is next to three other established Gaelic cultural organisations which allows us to work together creatively and helps further develop this area as a cultural hub for Gaelic in Glasgow."
Mairi MacInnes, Bòrd na Gàidhlig Interim Chair, said: "All those receiving funding do fantastic work to promote and develop the Gaelic language. Theatre Gu Leor's support for modern writers and actors mean they are very worthy recipients of this funding.
"We at Bòrd na Gàidhlig are delighted to support them and I am sure they will put the money to excellent use."
"We also hope that our change from a one-year to a three-year cycle will prove invaluable to all the organisations, giving them the much-needed opportunity to conduct more long-term development and financial planning."
Deputy First Minister John Swinney said: "This is an important step for Gaelic and the offer of funding over an extended period of three years allows these organisations to plan their future workload and provide stability for their staff.  The Scottish Government is committed to providing a sustainable future for Gaelic and this funding goes some way to support our aims for the language and those who wish to use it."
Donald MacNeill, chief executive at Comunn na Gàidhlig, said: "We strongly welcome our renewed funding, and its three-year basis. This will allow us to look to new opportunities; will provide our hard-working team with added security, and that in turn will be a benefit to the young Gaelic speakers at the core of all our efforts."
Donald W Morrison, chief executive of Stòrlann Nàiseanta na Gàidhlig, said: "Stòrlann welcomes the three-year funding. It is most useful in planning for the resources and services which Stòrlann provides for pupils, parents and teachers, both at learner and fluent levels.
"In addition, this funding helps to contribute to the Gaelic economy, supports activity that raises awareness of the language and serves to increase the number of Gaelic learners and users in Scotland."
John Morrison, chief executive of An Comunn Gàidhealach, said: "An Comunn Gàidhealach is pleased to be the recipient of three-year grant funding from Bòrd na Gàidhlig. The guaranteed funding delivers certainty to our work and makes future planning easier. We hope that other funding bodies are able to replicate the Bòrd na Gàidhlig model to allow us to deliver steady growth in all our important Gaelic language development work. We wish to thank Bòrd na Gàidhlig for creating this certainty within an overall difficult funding environment."
Other organisations awarded funding include Ionad Chaluim Chille Ìle, Islay, £310,500 to deliver a programme of events and classes to promote Gaelic among residents on Islay and Jura; Comhairle nan Leabhraichean, of Glasgow, £537,000 to increase the number of people reading Gaelic books year on year; Fèisean nan Gàidheal, £430,000 to provide support and develop the traditional arts sector through Gaelic; Ceòlas Uibhist, £207,000, to focus on promoting Gaelic culture and help deliver its ambitious project to create a centre for Gaelic music, dance and culture in South Uist in partnership with Lewis Castle College UHI; An Lòchran, in Glasgow, £105,000 to co-ordinate Gaelic arts events in Scotland's largest city; Ainmean-Àite na h-Alba, £240,000 for its continued research for its website and database of Gaelic place names; Faclair na Gàidhlig, £225,000, to develop a historical dictionary of the Gaelic language; and Acair, in Lewis, £171,000 to publish new high-quality Gaelic books.