Bòrd na Gàidhlig provide vital funding to public authorities for 36 Gaelic projects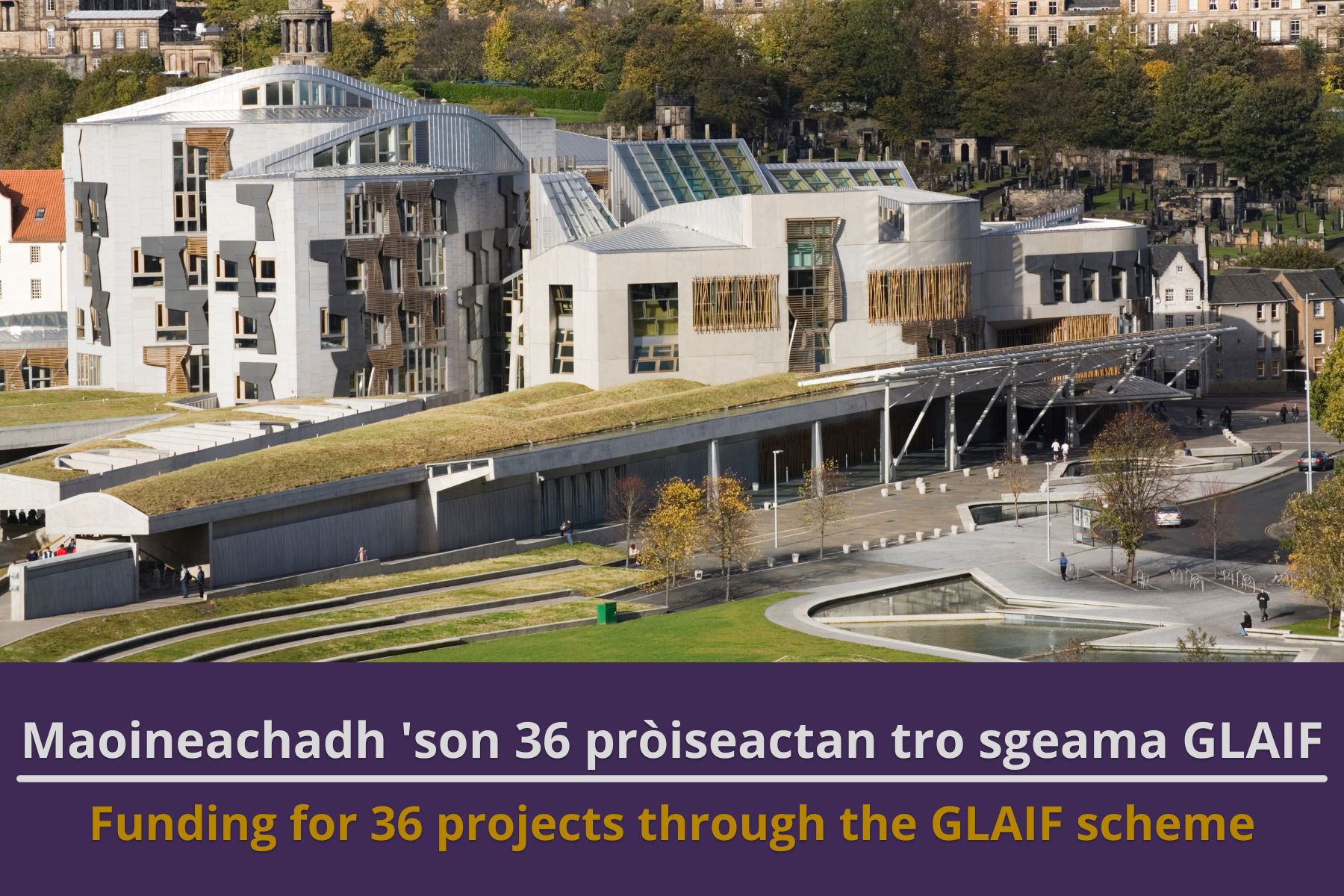 Bòrd na Gàidhlig has awarded over £413,000 to 36 Gaelic projects as part of the Gaelic Language Act Implementation Fund (GLAIF). 
Comhairle nan Eilean Siar is one of a number of Western Isles organisations to benefit from funding for a range of projects, including an award of £20,000 to provide Gaelic classes to its apprentices. 
The Comhairle also received £12,000 to provide an immersion in a Gaelic work environment for students undertaking a summer placement within a local organisation, and a further £8,000 to host Gaelic reminiscence sessions in care homes. Other funding included £7,500 to host LUACH 2023 – a festival of Gaelic events across Lewis and Harris. 
Among the many other organisations receiving funding are the University of the Highlands and Islands Outer Hebrides, who have been awarded £33,000 to offer Gaelic classes across the Western Isles. The National Library of Scotland has been awarded funds to hire an officer to digitise Cinema Sgìre films, while the University of Aberdeen has been provided funding to hire a Gaelic officer. 
The City of Edinburgh Council's work in developing the Gaelic language has been recognised with an award of £20,000 to extended Capital Gaelic – a project aimed at building the links between Gaelic organisations throughout the city. 
Glasgow Life will carry its Gaelic Arts Strategy into a fifth year, where the organisation will promote a programme of events and campaigns following a £15,000 award, as well as provide training and development opportunities for Gaelic tutors. Glasgow City Council has also been provided with £7,000 of funding to develop an interactive Gaelic map of the city, as well as an additional £3,200 to provide Gaelic tuition to council staff. 
Elsewhere, Leisure and Culture Dundee will benefit from over £1,350, which will go towards delivering Gaelic concerts and presentations in Gaelic for Dundee residents, while Dumfries and Galloway Council has been awarded £5,750 for a Gaelic heritage value study. 
A full overview of projects that received funding can be found via the GrantNav website here.  
Further projects that applied through GLAIF will also be supported as the year progresses. 
Mairi MacInnes, Chair at Bòrd na Gàidhlig, said: "The latest round of GLAIF funding shows the reach that Bòrd na Gàidhlig has as we strive to give the Gaelic language the platform to develop, not just in the Highlands and Islands, but throughout Scotland. 
"The breadth of awards across the country show the commitment from many councils and organisations to grow the language and bring it to an altogether new audience as well as supporting existing Gaelic communities. This form of funding plays a major role in ensuring that the language's rich history is preserved and will be of benefit to people of all ages." 
Bòrd na Gàidhlig runs funding schemes at different times through the year. If you have a proposal for a project please email: tabhartas@gaidhlig.scot, or phone 07584 103 944. 
Partner Quotes 
Leisure and Culture Dundee 
A spokesperson for Leisure and Culture Dundee said: "Leisure and Culture Dundee are grateful to Bòrd na Gàidhlig for continuing to support the Gaelic Lunchtime Concerts in the Marryat Hall, enabling us to bring the best young Gaelic singers and musicians to perform and for Gaelic to thrive through the joy of music."   
Comharile nan Eilean Siar 
A spokesperson for Comhairle nan Eilean Siar said: "Comhairle nan Eilean is delighted to be awarded £8k from Bòrd na Gàidhlig to deliver a project attached to Taigh Shiphoirt and Bremner Court, the new care campus being constructed in Stornoway.  'Sùil air Ais, Sùil air adhart' aims to deliver monthly reminiscence events for residents and will enable the purchase of items linked to the islands to stimulate memories and conversations.  Maintaining the spoken language is important  and Sùil air Adhart will support a member of younger staff group to champion and promote Gàidhlig with residents/tenants and among staff." 
University of the Highlands and Islands 
During 2021-22 over 80 students enrolled on Gaelic courses delivered by UHI Outer Hebrides, and we are delighted, with the support of Bòrd na Gàidhlig, to be able to continue providing opportunities for Gaelic language learning in communities across the Western Isles.  We are pleased to be able to offer classes in 2022-23 in areas such as Barra, Benbecula, Tarbert and Barvas in addition to courses at our Stornoway campus and also online.   
Sue Macfarlane, Interim Principal of UHI Outer Hebrides, said: "UHI Outer Hebrides is committed to increasing Gaelic learning and usage opportunities and continued support from Bòrd na Gàidhlig and partnership working with Community Learning Hebrides enables us to offer a wide range of courses.  We are particularly pleased to be able to offer Gaelic courses free of charge to parents and guardians of children in Gaelic Medium Education.  We continue to work closely with Bòrd na Gàidhlig and partners in assisting with the implementation of the aims and objections of the National Gaelic Language Plan." 
Glasgow City Council 
A spokesperson for Glasgow City Council said: "Glasgow Life's Gaelic Arts strategy and programme has enjoyed unwavering support, through GLAIF, for which we, our community, Gaelic artists and audiences are extremely grateful. In 2022/23 we continue to develop Gaelic content at Glasgow Life's major festivals, Aye Write, Merchant City Festival, Celtic Connections and the Mela aswell as working with an extensive range of partners to deliver: the Literary competition – Litir gu Glaschu(Gaelic Books Council); community drama workshops and Royal National Mod performances (Tricky Hat Theatre Company); 12 weeks of group work for young musicians (Sgoil Ghàidhlig Ghlaschu); devising a new model for Glaschu.net (Glasgow University) with a refreshed steering group; support organisations like Ceòl 's Craic and Fèis Ghàidhlig Ghlaschu in a post pandemic context; introduce a new exciting audience development project Trodhadaibh and continue with our flagship community of practice project GUIR!" 
National Library of Scotland 
Alistair Bell, Head of Moving Image Archive, National Library of Scotland said: "At the Moving Image Archive of the National Library of Scotland, we are delighted to receive a grant from Bòrd na Gàidhlig. The project is a partnership with Museum & Tasglann nan Eilean part of Comhairle nan Eilean Siar. Together, we will use the funding to digitise and catalogue a unique collection of video tapes containing spoken Gàidhlig, and share the content with the public, both at community events in the Outer Hebrides and through the Moving Image Archive. The videos were filmed by local people during the 1970s and 80s in a community project, Cinema Sgìre. Our thanks to Bòrd na Gàidhlig for making this project possible." 
Dumfries and Galloway Council 
Dumfries and Galloway Council's Chair of the Council's Communities Committee, Archie Dryburgh, enthused that the Council were delighted to receive funding from the Gaelic Language Act Implementation Fund to support a Gaelic Heritage Value Study within the region. Vice Chair, John Campbell, commented: "This exciting opportunity was identified through our Third Sector partner Gàidhlig Dumgal and we look forward to working with them very closely over the coming period to take this project forward." 
University of Aberdeen 
A spokesperson: "The University of Aberdeen is delighted to be awarded £24,000 from Bòrd na Gàidhlig's GLAIF fund. We are thrilled to gain the support from Bòrd na Gàidhlig to recruit a passionate and dedicated Gaelic Language Officer. We look forward to propelling our ambitious Gaelic Language Plan actions further and delivering even more exciting Gaelic language initiatives for the University of Aberdeen community." 
Edinburgh City Council 
A spokesperson for The City of Edinburgh Council said: "We're grateful for the continued support from Bòrd na Gàidhlig and delighted to be awarded £20,000 to further develop Capital Gaelic. This project aims to develop a co-ordinated and creative partnership approach to embedding Gaelic as a vibrant part of life in Edinburgh. This is being achieved by piloting interagency working with the Council and The National Library of Scotland convening a multi-agency group to identify opportunities, share knowledge and expertise and shape a vision for the future of Gaelic in the city." 
Progress over the past six months has included: The development of a Capital Gaelic Facebook page; the setting up a Community Gaelic Interest Group involving staff from all network organisations involved (The City of Edinburgh Council, The National Library of Scotland, The National Galleries of Scotland, Comunn na Gàidhlig, Skills Development Scotland, National Museums Scotland); stronger links with schools using pupil views of what they would like Capital Gaelic to achieve: Ar Guth (Pupils Voice Group, Àrd Sgoil Sheumais Ghilleasbuig) and the development of Foundational Apprentice in collaboration with Skills Development Scotland.  
Funding Recipients 
University of the Highlands and Islands – Outer Hebrides 
University of the Highland and Islands 
The Highland Council 
City of Edinburgh Council 
University of Aberdeen 
Comhairle nan Eilean Siar 
Glasgow Life 
University of Glasgow 
West Dunbartonshire Council 
North Lanarkshire Council 
Newbattle Abbey College 
Glasgow City Council 
NadarAlba 
Dumfries and Galloway Council 
Angus Council 
Sabhal Mor Ostaig 
Moray Council 
COSLA 
Leisure and Culture Dundee