DCMS Committee Examines Future of Minority Languages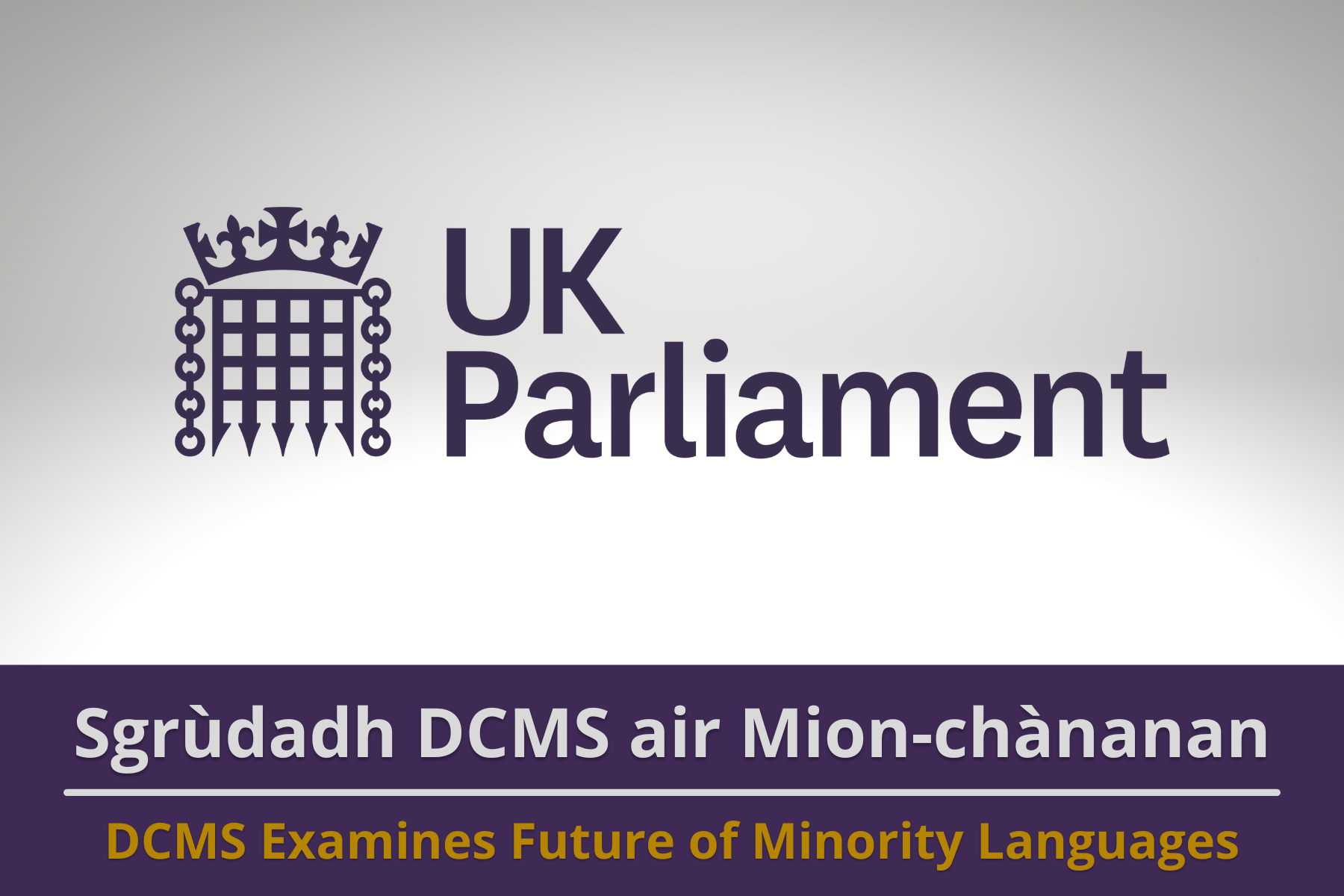 On 1 March 2023 Bòrd na Gàidhlig submitted a response to the UK Government's Digital, Culture, Media and Sport Committee inquiry into the health and future of minority Languages.
Included in the response:
Suggested Changes to UK Government's Role
1. Become a signatory to the UNESCO Convention for the Safeguarding for the Intangible Cultural Heritage. This would provide an global framework which supports each of the minority indigenous languages of the UK and provide international standards of status, recognition and support.
2. Each of the UK Government Departments whose remit includes Scotland to consider what they could do to support the National Gaelic Language Plan, in the light of the current policy of only applying this to the Welsh language. That would include Departments:
• With sites in Scotland. For example, Office of the Secretary of State for Scotland, Department for International Development.
• Located elsewhere in the UK. There is a need for UK-wide legislation for minority languages so that services by relevant UK Government Departments and services (e.g. DVLA) are available in Welsh, Gaelic and Irish. That will help to ensure that each of the three minority languages commands equal respect to English.
3. Review current UK Government funding policy for MG ALBA and revise it so that it is equitable in light of the models that operate for Welsh and Irish language broadcasting.
4. The UK Government's Levelling Up Fund is jointly managed by HM Treasury, Department for Levelling Up, Housing and Communities and the Department for Transport. There should be a review of the criteria for the Fund to ensure equitable treatment of cultural and other projects that directly support UK indigenous minority languages.
5. As the UK is a signatory to the European Charter for Minority and Lesser Used Languages, the UK Government should raise awareness of the UK minority languages that are included and support more opportunities for learning them.
The full response can be read here.