Scotland's first Gaelic graduate apprentice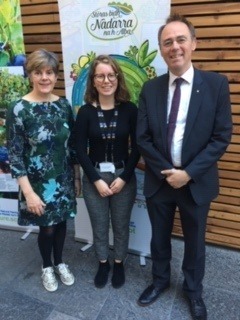 In a groundbreaking move, Bòrd na Gàidhlig is employing student Orla in a full-time salaried position. This new role will see her spend the next four years mixing work-based learning in a fully Gaelic environment with her studies towards a BA (Hons) in Business Management.
Role of Bòrd na Gàidhlig apprentice
This is part of a new link-up between Bòrd na Gàidhlig and Aberdeen Business School at Robert Gordon University, where Orla has begun a new 'blended learning' course.
It means over the course of her four-year degree, Orla will become fully immersed in the business environment of Bòrd na Gàidhlig, and familiarise herself with the workings of the organisation through a series of projects each semester.
Despite being a student at RGU, Orla has moved to Inverness and will keep tutors at Aberdeen Business School up to date with her progress through distance learning. She will follow a learning plan – which consists of four modules a year – and which will be matched to learning outcomes.
Orla MacDonald
Before joining Bòrd na Gàidhlig, Orla graduated in July from the University of Edinburgh, where she achieved an MA (Hons) in Celtic.
She said: "I've really enjoyed the start of my new working life at Bòrd na Gàidhlig. I am currently familiarising myself with the business environment, how the organisation operates, such as its purposes, structures, functions and core values.
"As the course continues so my work will become even more in-depth and specialist. It's a fantastic opportunity to learn just how much work Bòrd na Gàidhlig does with the Gaelic and the wider Scottish communities."
Bòrd na Gàidhlig mentorship support
Orla is receiving mentorship support from Bòrd na Gàidhlig's senior team, including office manager Carol Johnson, who says through the four years of her study, Orla's projects will become increasingly in-depth and useful to the organisation as her skills and knowledge increase.
Shona MacLennan, Bòrd na Gàidhlig chief executive officer, said: "Bòrd na Gàidhlig is so excited to have Orla here with us, we already enjoy her being part of our team. Through her four years of study Orla will each semester follow a learning plan which will match up with the different parts of the course which she will follow to achieve her degree.
"It means Orla will quickly integrate and familiarise herself with Bòrd na Gàidhlig, as well as engage with and provide support to key stakeholders. We ultimately hope that she will stay with us and progress even further within the organisation."