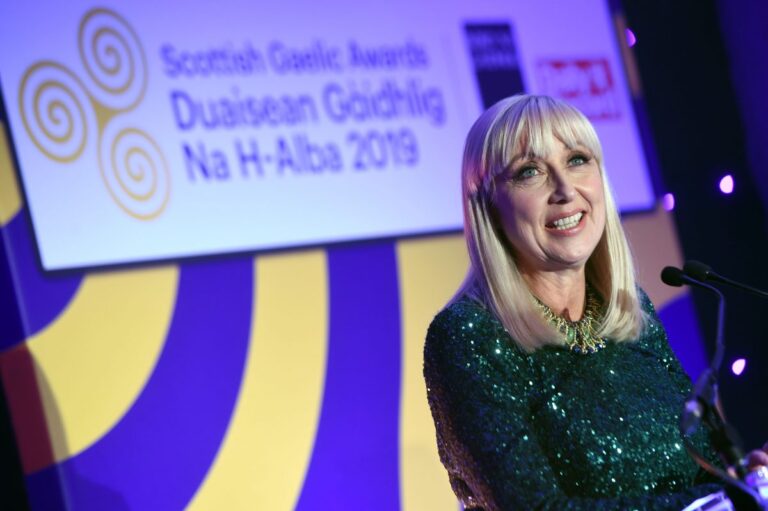 Bòrd na Gàidhlig and the daily record were proud to host the most prestigious night of the year within the Gaelic community calendar. Celebrating Gaelic culture, education and language highlighting the excellent work undertaken to maintain growth and heritage.
The awards are now in their seventh year and attended by over 200 guests including finalists, event sponsors and members of the Gaelic community. The event itself Celebrates and embraces traditional and modern entertainment. Hosted by Scottish Broadcaster and Producer, Cathy MacDonald the evening which Bòrd na Gàidhlig started supporting in 2013 was held in Glasgow at the Marriot Hotel.
The piper who campaigned against men-only competitions and inspired generations of children was honoured for her life's work at this year's Gaelic Awards.
Rona Lightfoot, described as a one-woman ceilidh, was presented with the Lifetime Achievement Award at the Daily Record and Bòrd na Gàidhlig Gaelic Awards, which pay tribute to all aspects of Gaelic culture, education and language.
Rona, 83, who was born on South Uist, started playing the pipes when she was nine.
After moving to Glasgow to train as a nurse, she married a sailor and would often go to sea with him, taking her pipes so she could teach herself pibroch.
She was the first woman to take part in the Bratach Gorm, the Scottish Piping Society of London's premier pibroch competition, and her contribution to Gaelic culture as a singer, storyteller and teacher was recognised at the awards.
Other winners included Lucy Hannah, named Young Gaelic Ambassador of the Year for managing a Gaelic- medium childcare facility on Skye, and Alison Richardson and Claire MacDonald, who picked up the Learner Award for producing two online Gaelic resource banks.
Shona MacLennan, CEO, Bòrd na Gàidhlig, said:
"All the winners and nominees are to be congratulated on their work to ensure that Gaelic is used more often, in more situations, by more people.
"It's truly inspiring to see such passion for our language and culture."
THE WINNERS
LEARNER AWARD: Alison Richardson and Claire MacDonald
ARTS & CULTURE AWARD: Whyte (Alasdair Whyte and Ross Whyte)
EVENT AWARD: Urras Oighreachd Ghabhsainn
COMMUNITY, HERITAGE & TOURISM AWARD: Marisa Macdonald & Sgoil an Rubha
BEST CONTRIBUTION AWARD: Acair
INTERNATIONAL AWARD: Alba Choir at Eurovision
SPORT AWARD: Calum Maclean
INNOVATION IN EDUCATION AWARD: Dawn MacPhie
YOUNG GAELIC AMBASSADOR AWARD: Lucy Hannah
GAELIC AS AN ECONOMIC ASSET AWARD: Graficanna
LIFETIME ACHIEVEMENT AWARD: Rona Lightfoot
For more information go to