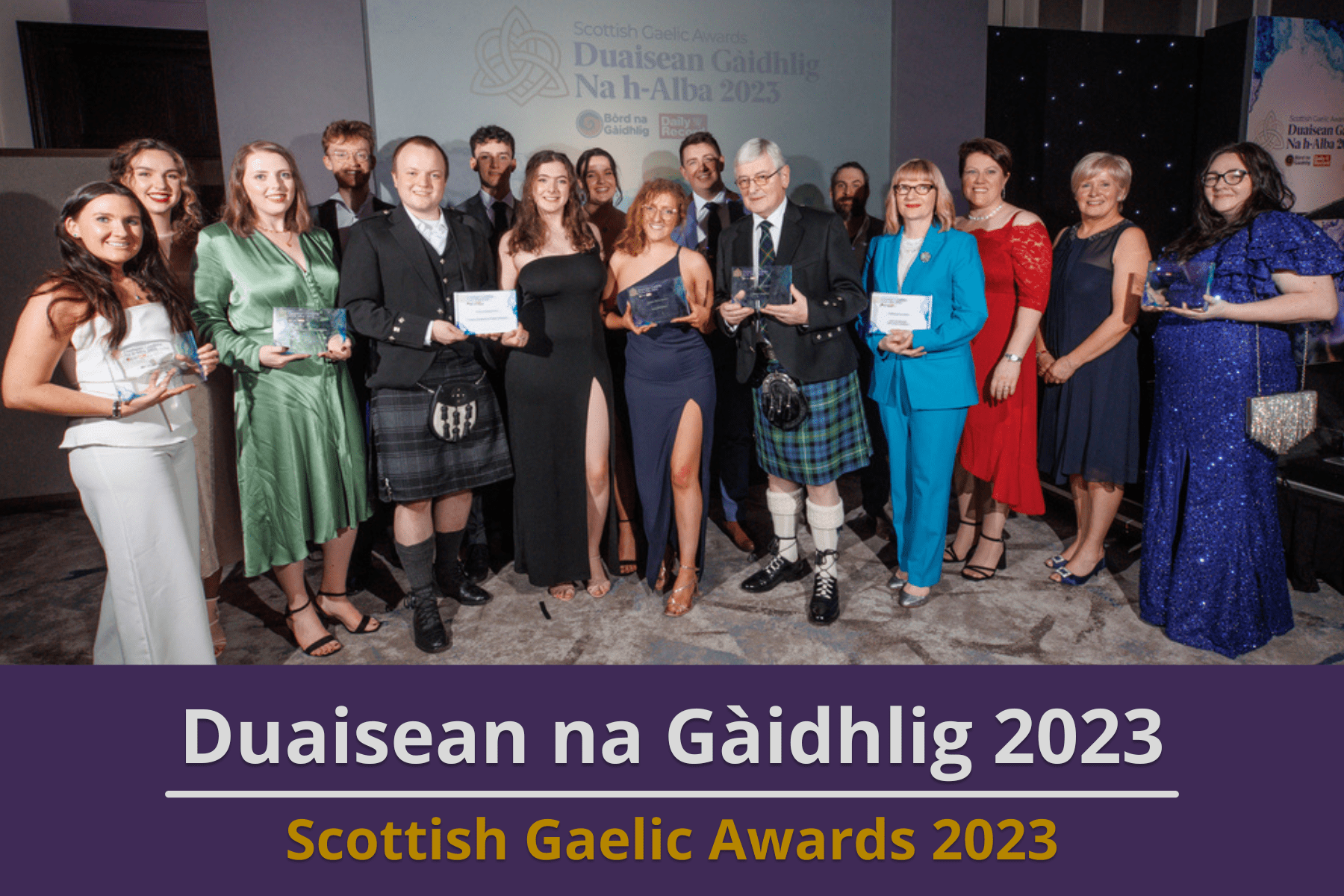 Photo: Stevie Walsh
The Gaelic Awards 2023 were held at the Glasgow Marriott Hotel on Tuesday evening. Ten awards were presented to people and groups throughout the country for their work in Gaelic. For the first time, the Gaelic Awards were held as part of Seachdain na Gàidhlig (World Gaelic Week) and celebrated some of the people and organisations who work hard within Gaelic.
This was the tenth year of the Gaelic Awards and there were some changes to the award categories including a new Award for the Content Creator of the Year, an award for Gaelic in Sport alongside the annual awards such as Young Ambassador of the Year and Lifetime Achievement Award.
The evening was hosted by Cathy 'Bhàn' MacDonald and there were around 150 people in attendance to celebrate Gaelic.
The Gaelic Awards, which are held in partnership with the Daily Record, allow people and groups the opportunity to be recognised for the important work that they do in Gaelic each year.
Màiri MacInnes, Chair of Bòrd na Gàidhlig, said: "There is a lot of work going on in Gaelic and that is growing every year. That is clearly evident as we have received the most nominations this year! We had a great night together as we celebrate the Gaelic language, contributing to the normalization of the Gaelic language and maintaining the wonderful work that is going on in the world through Gaelic."
The following awards were presented:
Arts and Culture Award – Marcas Mac an Tuairneir
Best Contribution Award – Yvonne Irving
Best Contribution to Media – FilmG
Community Award – Comunn Oiseanach Oilthigh Ghlaschu
Learning Award – Sgioba na Gàidhlig, eSgoil
Gaelic in Sport – Màiri NicRisnidh, BBC Spòrs Gàidhlig
Gaelic as an Economic Asset – Astar
Best Gaelic Content-Creator – Young Scot
Young Ambassador of the Year – Raonaid Kellow
Lifetime Achievement Award – Ailean Caimbeul
Further information: